Vejle
UCL has campuses at 2 locations in Vejle: UCL Vestre Engvej and UCL Boulevarden.
UCL Vestre Engvej
Vestre Engvej 51 C, 7100 Vejle
Office hours
Monday-Thursday 7.30-15.30
Friday 7.30-15.00
Parking
You can park for free next to the building for 3 hours. However, depending on the time of day you may have to use the free parking area in Cirkuspladsen slightly further away from campus.
Bicycles can be parked in the bicycle parking area near the main entrance.
Accessability
We have designated parking spaces for the disabled. The entrance to the building is stepless, and we have lifts and handicap friendly toilets at every floor. The auditorium is equipped with af teleloop.
Welcome guide for visiting staff from abroad
Are you visiting UCL from abroad? Then you should read our Welcome Guide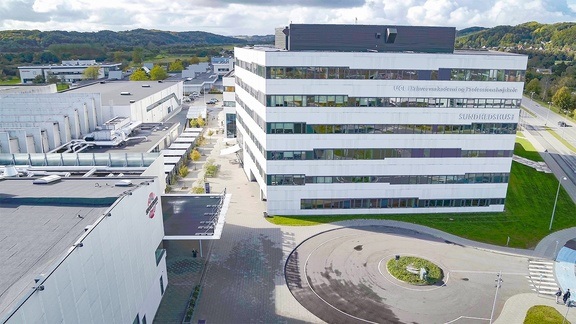 UCL Boulevarden
Boulevarden 25, 7100 Vejle
Office hours
Monday-Thursday 7.30-15.30
Friday 7.30-15.00
Parking
As a student at Boulevarden you can park for free at UCL Boulevarden 74. You only need to register your vehicle with the login that you receive from Parkzone at your UCL email address.
The parking permit is valid with a received email receipt from Parkzone. Please note, your parking permit will automatically terminate upon completion of your study activity. You will not receive an expiry email from Parkzone.
2 cars / motorcycles can be registered per person at a time.
Update and change of license plate.
Your parking permit is personal and violation of the parking system may cause suspension of your permit.
Students from other UCL addresses
Students from other UCL addresses can have a temporary parking permit for UCL Boulevarden by contacting the Information at Boulevarden.
If you have any doubts about parking and registration, please contact the Information at Boulevarden or by e-mail: bou-information@ucl.dk.
Just enter the registration number of your car and the number of your mobile phone. Then you will receive a parking license for one day. You do not have to leave a visible receipt or ticket in the car.
Welcome guide for visiting staff from abroad
Are you visiting UCL from abroad? Then you should read our Welcome Guide